It seems in the last few days that DBG decided to finally update the client on steam. To get around this you have to manually download the specific version of the files on steam. To make this as simple as possible for our new players I created a simple batch file to do all the heavy lifting.
One thing to note is it requires a steam login. You can either use your normal steam account or if you are uneasy about that you can simply create a throwaway account and use that.
Requirements inherited from SteamRE
Quote:Steam depot downloader utilizing the SteamKit2 library. Supports .NET Core 2.0
1) Download the downloader (lol) 
EQ2EMu AoM Client Downloader
2) Unzip the folder whenever you like. Note that depending on where you extract it, you may need to run as admin in the next step!
3) Inside the folder you just extracted locate EQ2EMU-CLIENT-DOWNLOAD.bat. It will look like one of the following pictures

or
4) Now Run it! You will see the following below (some redaction as im sure you can see) where you must fill in your steam username and password.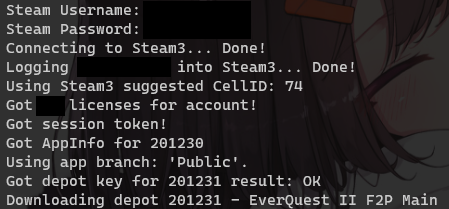 Once this is completed you can now copy/move/use the folder located in <folder you extracted program to>\depots\201231\5035369
Enjoy!
//edit: Here is the link to the downloader original source
SteamRE-DepotDownloader